Siyasî
Sykes – Picot û qedera gelê Kurd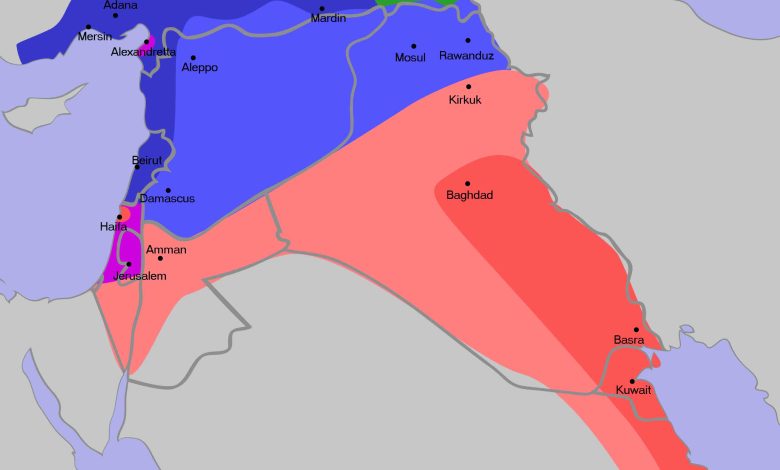 Roja 16ê Gulana 1916, di kelekela şerê cîhanî yê yekê de welatên hevpeyman, bi peymanek veşartî biryar dan ku piştî bi dawî hatina şer herêmên li bin sîvana Împeratoriya Osmanî di navbera xwe de parve bikin. Ev peymana veşartî, bi hinek guhertinên biçûk re, piştî bi dawî hatina şer kete jiyanê û xerîteya siyasî ya Rojhilata Navîn darişt. Ev peyman ku di dîrokê de bi navê peymana Sykes- Picot tê bi navkirin, weke bingeh ji bo bêmafkirina gelê kurd û perçe kirina axa Kurdistanê tê hesibandin.
Gelo peymana Sykes-Picot çi bû? Hîmên bingehîne wê peymanê çi bûn û çima vê peymanê zêdeyî her gel û deverê bandora neyênî li ser Kuridtanê kir? Gelo Kurdistan, di wê demê de ji bo bi dewletbûnê amade bû û bi pîlana hêzên hevpeyman ji mafê serxwebûnê hate bêpar kirin? Kurdistan li salên şerê cîhanî yê yekê, bi taybet dema ku peymana Sykes- Picot kete rojevê di çi rewşekê de bû?
Peymana Sykes – Picot, di serî de ji aliyê Feranse û Birîtaniya Mezin ve hate amade kirin û pişt re Rûsiya Tizarî jî tev lê bû û her sê aliyan bi hev re, di 16ê meha Gulana sala 1916 de ew peyman îmza kirin. Bi riya wê peymanê, her sê welatan li hev kir ku piştî bi dawî hatina şer, împeratoriya Osmanî perçe bikin û herêmên ku li bin siya Împeratoriyê rizgar dibûn di nava xwe de parve bikin. Navê peymanê ji navê du kesayetiyên xwedî bandor di wê serdemê de ku lîstikvanên sereke yên peymanê bûn, efserê îstixbarata Birîtaniya Mark Sykes û dîplomatê Feranseyî François Georges-Picot hatiye girtin.
Naveroka Peymana Sykes- Picot heya meha Çiriya paşîn ya sala 1917 veşartî ma. Lê piştî ku rêjîma Tizar li Rûsiyê hate hilweşandin û komonîst hatin ser kar, arşîv û belgenameyên veşartî yên dewleta Tizar hatin eşkere kirin û naveroka peymana Sykes – Picot jî eşkere bû. Her du rojnameyên Izvestija û Pravda roja 23ê Çiriya paşîn, an Semawezê naveroka peymanê weşandin. 3 rojan li pey wê re, naveroka lihevhatinê ji aliyê rojnameya Ingilîsî Manchester Guardian ve jî hate weşandin.
Li gor wê peymanê hemû deverên ku îro bi navê Sûriye û Lubnan tên nas kirin, Kurdistan, devera Mûsilê jî di nav de diketin bin kontrola Feranse. Rûsiya dibû sergêrê Istanbol û Ermenistanê ku piraniya deverên bakûrê Kurdistanê, ji Wanê re ber bi Bakûr digirt nava sînûrên xwe. Pişka Birîtaniya mezin jî dibû Ordun, Başûrê Êraqê û deverek biçûk li derdora Heifa li Filistîn/Îsrayîl a îro. Ji bo nawçeyên din yên erebî ku ji Împeratoriya Osmanî diveqetîn biryar hatibû dan ku konfedrasyonek berfireh bê ava kirin ku hemû hoz û êlên ereban di nava xwe de bi cîh bike.
Beriya ku peymana Sykes – Picot bikeve rojevê, Împeratoriya Osmanî her ji destpêka Şerê cîhanî yê yekê ve, bi helwêst û sekna xwe ya siyasî ketibû eniya dijberî hêzên hevpeyman. Lewma mijara hilweşandina Împeratoriyê û parve kirina deverên di bin siya wê de beriya peymana ciyê basê jî bi germî di rojeva hêzên hevpeyman de bû. Li gor peymanek weşartî ku sala 1915 Birîtaniya Mezin, Feranse û Rûsiya li ser lihev kiribûn, biryar hatibû dan ku piştî şer, Rûsiye bajar û devera Îstanbolê, her du gewriyên Bosfor û Dardanêl û derya Mermere bixe ser axa xwe. Li gor lihevhatinek din, biryar bû ku Mezopotamiya bikeve bin destê Birîtaniya Mezin, Sûriye û başûrê Asiya Biçûk bikevin bin destê Feranse, hin deverên biçûk li herêmê bidin Îtaliya û Kurdistan û Ermenistan jî bikevin bin sergêriya Rûsiyayê (R.R Palmer & Joel Colton, A History of the Modern World 1995: 720).
Lê peymana Sykes- Picot, pitir ji hemû lihevhatinên veşartî û eşkere yên din şansê jiyanê peyda kir. Bi tayubet dema ku Rûsiye di nava gêjava şoreşa Oktobera sala 1917 de, bi pirsgirêkên xwe yên hundirîn re rûbirû ma û bi awayekê kete ber dîfa hevpeymanên xwe yên berê, qada siyaseta Rojhilata Navîn ji bo Feranse û Birîtaniya mezin bi cîh ma. Piştî ku Rûsyê xwe ji hemû peymanên veşartî û eşkere ku dewleta Tizar li pişt bû paşve kêşand, êdî lîstikvanên qada siyaseta herêmê; Birîtaniya Mezin û Feranse tenê li gor lihevhatinên xwe yên dualî danûstandin kirin.
Her çi qas pilana perçe kirina Rojilata Navîn hinekê ji pilana bingehîne peymana Sykes- Picot cuda bû, lê xerîteya cografî ya nûye heremê li ser bingeha wê peymanê hate diyarî kirin. Li gor wê pilanê, diviya devera Mûsilê bikeve bin sergêriya Feranse, lê derketina nîşaneyên çalên neftê li vê deverê, tama devê Birîtaniyaiyan xweş kir. Bi awayekê ku karek kirin heya Mûsil û Kerkûk bikeve bin deselata Birîtaniya.
Di heman pêvajoyê de Birîtania soz da çalakvanên Îsrayîlî ku xwe di bin sîvana rêkxistina "Sion" de bi rêkxistin kiribûn, ku ji wan re alîkar be heya ew bikarin li ser axa dîrokî ya "bav û kalên" xwe dewletek Îsrayîlî ava bikin. Di wê rewşê de, her çi qas ku navê gelê kurd û qedera Kurdistanê di rojevê de jî bû, lê ava kirina dewletek kurdî tu gav derbasî qonaxa cîbicî kirinê nebû û piranî her li ser kaxezê ma.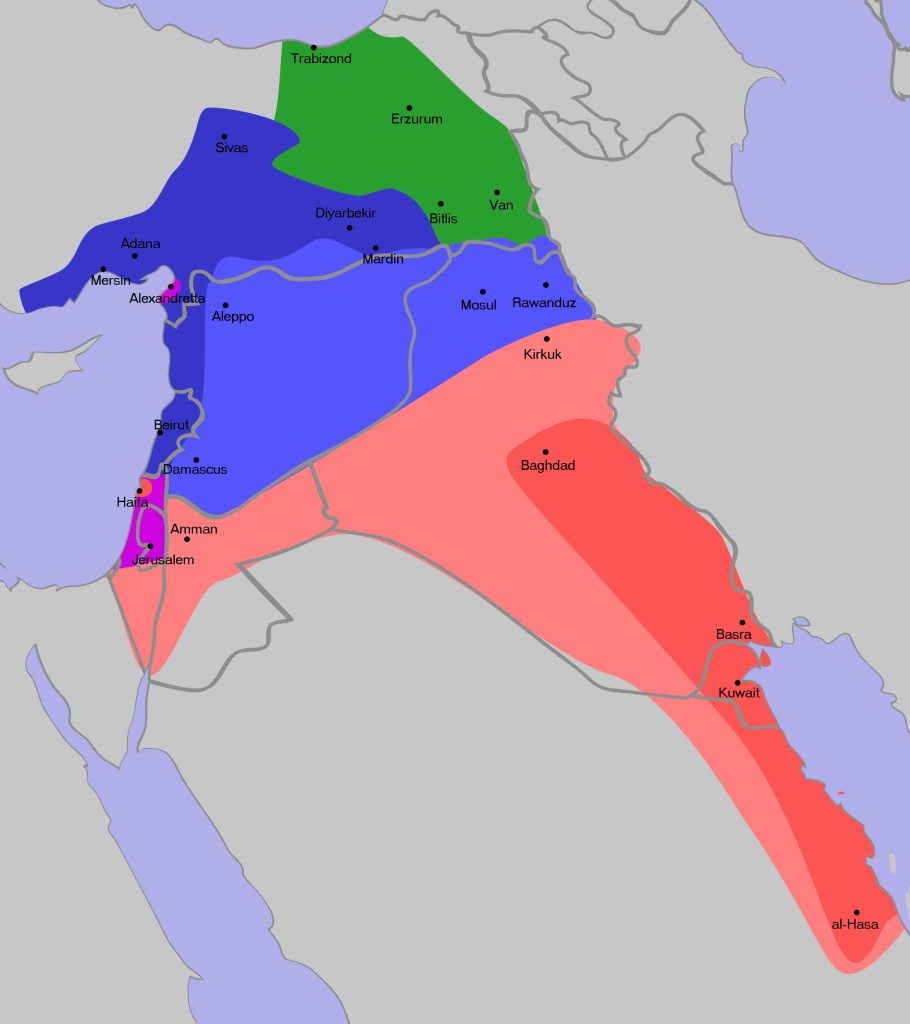 Niha, sed sal piştî peymana Sykes-Picot hê jî pirsyar ewe ka gelo wê peymanê û siyaseta dewletên serdeste wê demê pêşiya avakirina dewletek kurdî girt, an Kurdistan bi xwe di wê rewşê de ji bo serxwebûnê amade nebû? Di demekê de ku Îmeratoriya Osmanî ber bi helweşînê ve diçû û hêzên xwedî berjewendî herêm di navbera xwe de parve dikirin û rê ji bo serxwebûna hin gel û deveran xweş kirin, ji ber çi gelê kurd bêpar ma?
Bûyerên piştî şerê cîhanî yê yekê û ava kirina dewletên nû li Rojhiata Navîn, bi awayek zelal nîşan dide ku pêvajoya bi dewletbûnê di wê herêmê de, beriya her tiştî bi rewşa navneteweyî û xwesteka hêzên hevpeyman, bi taybet Birîtaniya Mezin ve girêdayî bû. Lewma sînûrên dewletên nû li gor rewşa civakî, cografî û neteweyî nehatin destnîşan kirin. Ji wê jî zêdetir, perçe kirina herêman, gelan û kultûran çi pîvanên xwezayî li ber çav negirt. Li hin deverên ku çi basa tevgerên neteweyî nebû, welatên nû hatin ava kirin. Hin tevgerên neteweyî hatin perçe kirin û rê ji wan hate girtin ku bi awayek asayî pêvajoya bi dewletbûnê bimeşînin. Li ciyên ku guman dihat kirin di pêşerojê de xwe li bin kontrol û deselatdariya hêzên hevpeyman rizgar bikin, bi her awayî pêşiya ava kirina qewareyên neteweyî hate girtin. Pêşîgirtin ji pêvajoya bi dewletbûna Kurdistanê jî bi wê rewşê ve girêdayî bû.
Lê di gel xedra ku hêzên hevpeyman li Kurdistan û gelê kurd kir, du aliyên din yên pirsa bêmafkirina gelê kurd ji avakirina dewletek serbixwe hene ku yek ji wan rewşa navxwe ya Kurdistan û civaka kurd bû û ya din bûyerên piştî şer û peymana Sykes-Picot. Her yek ji wan pirsan, bi xwe dikare bingeha basên dûr û dirêj be. Lê bi kinayî be jî avirdanek ji her du rewşan dikare berçavroniyek zêdetir bide.
Di rewşên asayî de û bêy destverdana dereke, bi destxistina mafê neteweyî di çarçoveya qewareyek hevbeş ya neteweyî de, bi pirsa sazkirina "nasnaemya neteweyî" û daxwaziyên tevgera neteweyî ve girêdaiye. Lewma ji bo bersiva pirsa ku çima di bin siya peymana Sykes – Picot de an ji ber bûyerên ku pişt re qewimîn Kurdistan ber bi serxwebûnê ve neçû, pêwîste rewşa tevegrea neteweyî li Kurdistanê di wê serdemê de bidin ber çav.
Mijara nasnameya neteweyî, înkarkirina wê u têkoşîna ji bo bi dest xistina serweriya neteweyî, di hemû sedsala 20 de bandor danî ser Rojhilata Navîn. Bingeha piraniya wan şer u arêşeyên kûr yên siyasî ku niha bi awayek berfirehtir û hê xûnawî diqewimin, bi wê rastiyê ve girêdaiye. Lê ya rast ewe ku baskirin bi awayek zanistî li ser pirsa netewe u mijara netewesaziyê li Rojhilata Navîn, heya wan salên dawî di rojeva siyasetvan u lêkolînvanan de nebû. Li Kurdistanê ev bas hê pitir di bin siya rewşa siyasî û pirsa şer de hatibû nixavtin. Bi awayekê ku baskirin li ser mijara netewe u pêvajoya netewesaziyê, demûdest bi daxwazên siyasî u programa partiyên kurd e dijberî sîstemên deselatdar ve dihate girêdan u weke sûç dihate temaşa kirin. Bi awayekê ku ji ber girêdana bi hev re ya wê basê u tevgera siyasiye Kurdistanê, deselatdarên welatên serdest li Kurdisatnê riya gulvedan u vegeşîna pirsa çarenûsa gelê kurd di demên asteng e dîrokê de girtin.
Renge ji bo zelalbûna mijarê, di cîh de be ku beriya şirove kirina rewşa Kurdistanê di dema şerê cîhanî yê yekê de, bêjeya "netewe" û pirsa "netewesaziyê" were pênase kirin. Ev bas di rêzegotarên li ser heman mijarê de, pêştir min bi berfirehî şirove kiriye, lê dubare kirina hin beşên wê basê wê bi cîh be.
Têgeha "netewe", di bingeha xwe de têgehek e ku gelik alî, dewlet, pispor û çalavkan li gor dîtin, rawestgeha siyasî, rewş, têgihîştin û pir caran jî berjewendiyên xwe bi awayên cuda wê mana dikin. Di gel ku têgehîştinek hevpar heye ku neteweyên hevdem xwediyê çi taybetmendiyan in, lê çarçoveyek hevbeşe zanistî ku ciyê rizamendiya hemû aliyan be, hêj ji bo wê têgehê nehatiye danîn. "Netewe"weke di wêje ya siyasî a serdest de tê bas kirin ji her yek ji wan dewletên serbixwe re tê gotin ku di rêkxistina Netewên Yêkbûyî (NY) de endam in. Lê hem di navendên zanistî de u hem jî li cem tevgerên rizgarîxwaze neteweyî, têgeha netewe bi awayê hêj berfirehtir tê temaşe kirin. Li gor wê dîtinê "komek mirovên xwediyê hin aliyên hevbeş e dîrokî, kultûrî, cografî, ziman û têgehîştinek hevpar li ser nasnameya hevbeş ku xwediyê pirojeya hevbeşe ji bo bi destxistina çarenûsa xwe bin" weke netewe tê bi nav kirin. Walker Connor di pirtûka; A Netion is a Nation, is a State, is an Ethnic group, is a… ku sala 1978 hatiye weşandin, li ser wê baweriyê ye ku tevliheviya termînolojî a li ser têgeha netewe, li ser basên zanistî yên li ser mijarê hin qas bandor daniye ku têgeha netewe hem ji dewletan re, hem ji gelan re u hem ji girûpên qewmî re tê gotin.
Ernest Gellner (Nation and Nationalism, 1987:3) di navbera du şêwe an du boçûnên li ser netewe de cudahiyê dibîne u wan weke neteweya kulturî u netewe ya nûavakirî bi nav dike. Li gor wî, neteweya kulturî xwediyê hin aliyên heveşe diyar u objektîv an berçav e mîna deb u teqalîd u edetên wekhev, ziman, ol, dîrok u kultûr a hevpar. Neteweya nûavakirî bi awayek dilxwaz u bi riya girêdan bi wê hestê ve tê sazkirin ku li ser wê baweriyê ye çarenûsa siyasî u mafwarî ya hemû endamên komê an komên hevqeder wek yek e.
Teorisiyenên zanista siyasî li ser wê baweriyê hevdengin ji bo ku civak, gel, netewe an komek mirovan derbasî qonaxa bi netewebûnê bin u weke netewe bên naskirin, pêwîste bi qonaxa şiyariya neteweyî re derbas bibin. Bi wê manayê ku hemû warên hevbeş ku netewe pê tê pênase kirin bi zanebûn bêne vejiyandin û bikevin nava çarçoveya pirsek siyasî. Giringtirîn pîvan di wê pêvajoyê de zindîkirina kultûra hevbeş, zimanê hevbeş, giringî dan bi ax u welatê hevpar u pirojeya hevbeş a netewesaziyê ye. Faktora ku di wê pêvajoyê de herî zêde li ser tê rawestandin, pirojeya hevbeş a netewesaziyê ye.
Li aliyek din ve cudabûnek di navbera neteweyên xwediyê dewlet u neteweyên bê dewlet de heye. Li vir, netifaqiya termînolojî an boçûnên cuda li ser têgehan di navbera piraniya pisporên zanista siyasî, dewletparêz u siyasetvanên ji neteweyên bê dewlet de pir zêde ye. Xwediyê dewletan u parêzerên hizra dewletparêz tenê wan gelan bi netewe dihesibînin ku heya îro dewletên serbixwe damezirandine û li ser wê baweriyê ne ku pêvajoya avakirina dewletan bi dawî bûye. Di modela dewletnetewe de, yasa, maf u erkên hevbeş di çarçoveyek diyar a cografî de bi riya sazî u dezgehên dewletdariyê ve pêwîste bêne misoger kirin. Di wê çarçoveyê de pêwîste hemû endamên civakê li hember yasayên ku bi xwe danîn e wek hev bêne temaşa kirin û ji bo parvekirina berpirsayetiyan jî xwediyê mafên weke hev bin. Wê modela siyasî şeklê xwe yê huqûqî jî heye u sinûrên erk u mafên takên civakê bi lihevhatin u yasayên nivîskî diyar dike.
Li hember wê modêla bi netewebûnê, neteweya bê dewlet heye ku endamên wê, yek an çend faktorên netewesaziyê bi hev re parve dikin, lê hê nekarîne an rê ji wan re nehatiye dan ku dewleta xwe ava bikin. Endamên neteweya bê dewlet pir caran dîtinek cuda li ser têgeha Netewe tînin rojevê. Di warên hest u girêdana bi nasnameya neteweyî de jî dîtina endamên wê komê ji bingeha xwe ve li dîtina deselatdarên biyanî yên serdest li welatê wan cuda ye. Neteweyên bê dewlet giringiyê didin nîşaneyên ber bi çaw yên ku endamên civaka wan bi hev re girêdidin u wan ji koma deselatdar cuda dikin. Mînakên here xuya yên wan warên cuda jî ev in: kultûr, ziman, ol, dîrok u cografiya ku tê texmîn kirin ya kevnar e wan e, lê ji aliyê deselatdarên ne xwemalî ve tê birêve birin.
Têkoşîna ji bo azadiya neteweyî ku di çarçoveya tevgera neteweyî de tê bi rêkxistin kirin, endamên wê civakê dike xwediyê nasnameya yekgirtî ya hevpar. Di wê modela kultûrî ya netewe û netewesaziyê de, ji bo gelên bê dewlet, astenga herî mezin, deselata navendî u dewleta ku welatê wan birêve dibe ye. Ji ber ku netewe li encama pêvajoyek siyasî û bi riya hişyariya neteweyî tê ava kirin, pêgava yekê ji bo neteweyên bê dewlet ewe ku pêvajoya netewesaziyêbi awayek berfireh bi riya tevgera neteweyî re bide dest pê kirin.
Pêvajoya netewesaziyê tevgerek civakî ye ku şiyariyek neteweyî xurt dike û bi xebata sîstematîk u bi pilan tevgerekê bi rê dixe ku hem aliyê xwe yê siyasî heye u hem jî liqên xwe yên kultûrî, civakî, perwerdeyî u abûrî. Di pêvajoya netewesaziyê de warên nû yên hevbeş ji bo endamên civaka hevgirtî têne avakirin, pêwendiyên kevnare ji qonaxek modern re derbas dibin, têne nûjen kirin u rengê neteweyî bi xwe ve digrin. Di dawiyê de û li ser wê şopê nasnameyek nû yaneteweyî tê avakirin.
Sê faktorên sereke ji bo bi pêşvebirin û gulvedana tevgera neteweyî, pîşesazî u weşan; guhertina qewareyên pêkhateya qewmî û hebûna pêşengên şiyare neteweyî ne ku di rewşa guncaw e navneteweyî de dikarin neteweya bê dewlet ber bi dewletbûnê ve bibin.
Şerê cîhanî yê yekê bi her awayî bandora xirab li Kurdistanê kir. Di şer de herî kêm 300 000 şervanên kurd ku di nava leşkerê Osmanî de wezîfe dikirin hatin kuştin. Nêzîk yek miliyon kurd li cîh û ware xwe hatin guhestin û di nava şertên perîşan de heya jiyanek nû ava kirin, êdî derfet nedîtin ku bi pirsa neteweyî û daxwaziyên neteweyî re mijûl bibin. Rewşa şer bû heger ku çalakiyên rewşenbîrî û hewla pêşengên siyasî û civakiye kurd ku piranî li bajarên mezin yên li derveyî sînûrê Kurdistanê çalak bûn bê sînûrdar kirin.
Navenda rewşenbîriya kurdî ku wê demê Stenbol bû, bi giranî di bin bandora şer de bû. Kilûb û komelên kurdî yek li pey ya din di salên navbera 1914-1916 de hatin girtin. Pêşengên civakî û siyasiye kurd qedera xwe ya siyasî bi helwêst û sekna xelafeta Osmanî re girêdabûn ku li gor têgihîştina wan ketibû bin hêrişa neyarên "ol" a wan. Di nava civaka Kurdistanê de nîşaneya dijberî an nerazîbûna giştî li hember sîstema deselatdar tune bû. Renge yek ji hegerên sereke ev serbestiya serokhozên kurd bû ku li jêr sîstema Împeratoriyê de hatibû misoger kirin.
Li aliyê din ve, li Rojhilata Kurdistanê ku bi awayê fermi nedikete nava çarçoveya lihevhatina Sykes – Picot, rewşa civakî ji deverên Kurdistanê yên li bin deselata Osmanî baştir nebû. Serbarî bêdengiya civakê li hember deselatê, pirsa birçîbûn û xelaiyê ku her ji salên destpêka şerê cîhanî ve Memalikê Mehrûseyê Qacariye û Rojhilata Kurdistane girtibû şiyana bi rêkxistina tevgera netewyî sînûrdar dikir.
Li tu deverên Kurdistanê pîşesaziya modern nehatibû ava kirin. Zanko û navendên perwerdekirinê li derveyî Kurdistanê bûn û perwerdeya olî ku li medreseyên dînî dihat dan, bi sedema şer hatibû sînûrdar kirin. Weşan bi tewayî di bin kontrol û li ber destê dewlet û rêveberên ne xwemalî de bû. Ji ber wê hindê derfeta bikaranîn a weşanê jib o pêşve birina doza neteweyî li Kurdistanê nemabû.
Di warê pêkhate û pêwendiyên civakî de jî têkilî sînûrdar bûn. Têgeha li ser nasnameyê bi tenê di çarçoveya eşîre û olê de hatibû sînûrdar kirin û pirsa sazkirina nasnameyek servetir ku ji bo bi netewebûn û avakirina dewletê mercê bingehîn e, di rojeva civakê de nebû. Kurdayetî weke rêçika siyasî ku sînûrê êl û eşîran, dever û herêman, bawweriyên olî û civakî derbas bike û hemû pêkhateyên civakê bi hev re girê bide nekteibû rojevê. Heta di dema serhildanên piştî şerê cîhanî de jî, wê dema ku Simko yê Şikak, Şêx Mehmûdê Berzencî û li pey re jî Şêx Seîd ê Pîran li sê beşên Kurdistanê serhildan kirin, sînûrê tevger û daxwaziyên wan nekarî bibe giştgîr û tev-Kurdistanî.
Şerîf Paşa, serdîplomat û tenê rewşenbîrê kurd yê ku di danûstandinên piştî şerê cîhanî yê yekê de hewl da ku destketekê ji bo neteweya xwe bi dest bixe, bi tewayî ji pêvajoyên siyasiye navxweye Kurdistanê hatibû qut kirin. Wî her piştî komkujiya Ermeniyan li sala 1915, ev karesat şermezar kir û ji ber wê hindê ji karê xwe yê dîplomatîk hat dûr xistin, hewl da ku bi riya peymana Sèvres re piştgiriya navneteweyî jib o avakirina dewletek kurdî bi dest bixe. Lê di karê xwe de bi ser neket, ji ber ku hêzên serdest baş agahdar bûn ku Paşa li cem serokeşîr û karbidestên herêmiye kurd pêgehek xurt nîne. Li aliyê din ve, pêşengên komele û rewşenbîrên kurd yên wê demê; Emîn Elî Bedirxan, Seyd Ebdulqadir Efendî û Muşîr Ehmed Zulkîf Paşa ne bi hev re û ne jî bi Şerîf Paşa re nêrîn û helwêsta xwe kirin yek heya bikaribin ji bo daxwaziyên xwe yên neteweyî zemîneya navxweyî û navneteweyî amade bikin.
Di asta navneteweyî de faktorên siyasî, abûrî û stratêjîk piştî şerê cîhaniye yekê, bi lez hatin guherîn. Hilweşîna Rûsiya Tizarî û hatine ser kar a dewletek komonîstî ku bi propagendeya xwe ya şorişgerî dixwest îdeolojiya xwe ya siyasî bi ser hemû cîhanê, her nebe bi ser welatên derûdora xwe de ferz bike, pîvan û pilanên siyasî guerîn. Hewlên avakirina dewletek ermenî ya girêdayî Rûsiyê û pişt re jî Sovyetê, welatên hevpeyman anîn ser wê baweriyê ku îhtimala ku dewletek serbixwe ya Kurdistanê jî bikeve bin bandora Sovyetê zêde kir.
Ji aliyê din ve vedozîna çavkaniyên neftê (petrolê) li herêmê, berjewendiyên nû yên abûrî xiste rojeva hêzên xwedî bandor. Bi awayekê ku wan giranî dan avakirina navendên xurte siyasî yên bin kontrola xwe. Di wê pêvajoyê de, Bexda û Şam pitir amade bûn ku bikevin bin kontrol û deselata Birîtaniya Mezin. Ankara jî hêdî hêdî ciyê xwe di siyaseta cîhanî de xweş kir, ji kultûra Osmanî veqetiya û bi wî rengî pitir bala welatên xwedî bandor kişande ser siyaseta xwe ya nû. Di nava wan lîstokên siyasî de Kurdistanê nekarî ciyê xwe bigre.
Peymana Sykes – Picot li gor berjewendiyên hêzên serdest sînûrên nû damezirand. Di wê pêvajoyê de daxwazî û hêviyên gelê kurd hatin piştguh xistin û axa Kurdistanê bi fermi di nava sê dewletên din de hate perçe kirin. Bi perçekirinê re girêdayî, civak, eşîr, malbat û hêviyên gelê kurd jî hatin perçe kirin.
Niha 100 sal piştî peymana Sykes – Picot, mijara sînûr û nasnameyan bi germahiyek zêdetir û wê care ji aliyê pêkhatiyên civakî yên xwecî ve ketiye rojevê. Di wê rewşê de, pir asaiye ku gelê kurd ku qurbaniyê serekeyê sînûrdanînên piştî şerê cîhanî bû daxwaz bike ku ew bêedaletiya dîrokê were sererast kirin.